March 5 2021 Nickel Update
Hello All,
It was a crazy week for nickel & trucking.  Nickel peaked during the 3rd week of February at $8.84/lb.  As of today it is down to $7.67/lb.  Below please find the main drivers:
Base Metals lower as supply fears ease.  LME inventories had large inflows.
Major producer Norilsk Nickel announced plans to stabilize water inflows at one of its biggest mines in the Russian Artic by March 9th.
Tsingshan Holding Group announced they have discovered a new way to make nickel for batteries Nickel prices plunging 7.4% on the prospect of breaking a crucial production bottleneck in EVs.
March surcharge was based on a $8.26/lb. average.  If nickel stays in the $7.67/lb. range there will be some relief but not a substantial amount.  Also chrome is still strong.  Please see below:
Surcharge estimate for April:
As of today surcharges still show a slight increase for April.  If nickel stays in the current range you will see that average come down to numbers closer to the February Surcharge.
Chrome is now adjusted on a quarter basis.  Chrome has remained strong so we are estimating a .03/lb. to .05/lb. increase for the Chrome component.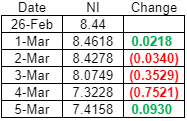 Trucking:
This continues to be a major obstacle.  Flat bed rates are almost double.
Common carriers are limiting volumes because of the influx of orders as people shift away from flat beds.
Terminals are overbooked causing delays.
Please plan on extra time and cost until things return to normal. 
Stay Busy in 2021! 
Jay Mandel
President & CEO
Back to news